Jazz Icons DVD Release Party
& Screening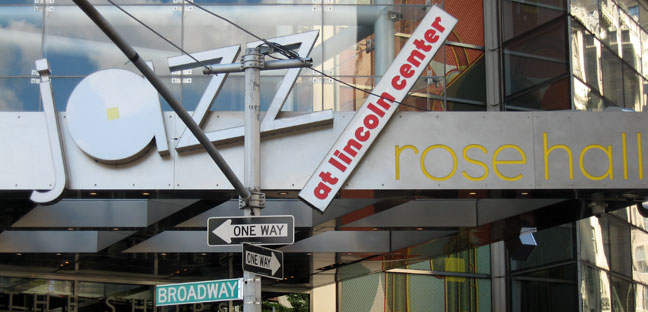 Tuesday, October 3, 2006 at Dizzy's Club Coca-Cola
Frederick P. Rose Hall, Home of Jazz at Lincoln Center, Broadway at 60th Street, 5th floor, New York City
Thanks to all who attended our DVD Release Party on October 3rd. We had a great night of music featuring Ben Riley's Monk Legacy Septet, with very special guests including saxophonist Frank Wess and trombonist Benny Powell (Count Basie), bassist Jymie Merritt (Art Blakey's Jazz Messengers), drummer Joe Harris and alto saxophonist Phil Woods (Quincy Jones), pianist Bob Kaye (Buddy Rich) and others.
Ben Riley's Monk Legacy Septet is Ben Riley (drums, Monk sideman on the Jazz Icons: Thelonious Monk Live in '66 DVD), Don Sickler (trumpet, arrangements), Bruce Williams (alto sax), Wayne Escoffery (tenor sax), Jay Brandford (baritone sax), Freddie Bryant (guitar), Kiyoshi Kitagawa (bass)
The evening began with a screening of clips from the DVDs and hors d'oeuvres and drinks. Then the Reelin' In The Years team spoke, then they showed a video greeting from Quincy Jones.
Click here to read a transcript of Quincy Jones' video welcome speech. We asked him for a short welcome and he followed his heart and starting riffing on the need for jazz to be taught in U.S. schools as history.
Then Ben Riley's Monk Legacy Septet played and the special guests joined them onstage for a great night of music.
Click here to see photos of the event

Click here to see a clip of the Monk Legacy Septet rehearsing

Click here to see a clip of "Moanin'" featuring 1958 Jazz Messenger Jymie Merritt
Other special guests were in attendance including Rudy Van Gelder, Jimmy Heath, Dr. Billy Taylor, Ron Carter, Roy Haynes, Charli Persip, Wynton Marsalis, Angela Bassett, Courtney B. Vance and others.
---
Here's a review of the evening which appeared in Jazz Improv's New York Jazz Guide, November 2006:
A Night of Iconic Revelry
Introducing the Jazz Icons DVD Series and Performance by Ben Riley's Monk Legacy Septet
By Gareth Kingsley
In one dimly lit corner, Benny Powell and Frank Wess reminisce with Billy Taylor and Jimmy Heath. Over near the stage Joe Harris holds forth while Ben Riley, Roy Haynes and Charli Persip take turns pounding the table in laughter—an epic drum circle if there ever was one. Jymie Merritt and Ron Carter swap bass stories in the back of the room, while studio wizard Rudy Van Gelder surveys the entire affair from a seat near the bar. Somebody pinch us. Have we bumped our heads and, in a sepia-tinted dream, been spirited back to Birdland in 1956? No, friends and jazz-lovers, this is no smoky basement bar in the heyday of Broadway. This is 2006 and we are overlooking Central Park through a glorious wall of windows at Dizzy's Club Coca Cola. On Tuesday, October 3rd, in celebration of the release of an astoundingly historic DVD series called Jazz Icons, 50 years of jazz were rewound and then replayed before our very eyes. The Jazz Icons DVD series celebrates the illustrious history of our beloved music with vintage, never-before-seen concert performances from nine of the founding fathers (and one mother) of jazz and the party to honor its arrival provided those of us lucky enough to be in attendance with an evening full of friends, both old and new, along with outstanding music, both familiar and fresh.
The evening began with hors d'oeuvres and drinks with selected clips from the Jazz Icons DVDs playing on two TV monitors. Attention wavered between conversation and gawking open-mouthed at the screens when scenes of a 20-year-old Lee Morgan blasting out a solo on "Moanin'" in 1958 or a gap-toothed Chet Baker crooning in 1964 appeared. After an hour the emcee introduced the team from series creators Reelin' In The Years Productions- President David Peck, Vice-President Phil Galloway and Art Director Tom Gulotta. Peck spoke about the impetus for the series and his relationship to European media company TDK as well as the possible future of the series, which could include dozens of releases if successful. Galloway spoke on the cultural and educational importance of the footage and Gulotta spoke on the visual look of the series and the relevance of the generous booklets filled with insightful essays and rare photographs. They then played a four minute video greeting from Quincy Jones, who welcomed the crowd, expressed his regrets at not being able to attend, and then opened his heart in an impromptu plea for the integration of jazz history into mainstream educational curricula, calling jazz the "classical music of all popular music."

Next, the ironically piano-less Ben Riley's Monk Legacy Septet, led by former Monk sideman Ben Riley and series consultant and associate producer Don Sickler, took the stage and kicked into Monk favorite "Lulu's Back in Town." The catch here is that all of Monk's piano parts from the 1966 Norway show on the Jazz Icons Thelonious Monk DVD are transcribed note for note and re-arranged for trumpet, soprano, tenor, baritone sax and guitar. It's an unusual but enlightening reconstruction of genius and the signature style of this Septet. Drummer Ben Riley is featured on both of the 1966 shows on the DVD.
Special guests Benny Powell (trombone) and Frank Wess (tenor sax) who both appear on the DVD featuring Count Basie's New Testament band in Sweden in 1962, Phil Woods (alto sax) and Joe Harris (drums) who appear on the Quincy Jones in 1960 DVD, Bob Kaye (piano) who was a part of Buddy Rich's band on the 1978 DVD and Jymie Merritt (bass) one of the Moanin' era Jazz Messengers, took turns joining the band onstage and, for the rest of the evening, traded solos and generally played like young men on tunes like "Blue Monk," "Bright Missisippi," "Corner Pocket," "Moanin'" and "Big Red." It was truly a sight to behold as some of these guys hadn't played together in over 40 years, while some had never played together at all. Under Riley's and Sickler's leadership, young players like Wayne Escoffery (tenor sax), Freddie Bryant (guitar) and Kiyoshi Kitagawa (bass) provided solid foundation for their guests in addition to getting the chance to shine in their own right as bearers of those passed torches. Angela Bassett and her husband Courtney B. Vance, both jazz lovers, graced the event with their presence along with Jazz At Lincoln Center's Creative Director Wynton Marsalis. One of the highlights of the evening was when the loquacious Joe Harris (who drummed for Dizzy and Bird in the late 40s and was part of the legendary Quincy Jones Big Band in the early 60s) took the stage for a solo class in percussion. At 80 years of age and obviously overjoyed to be back in his element, Harris played with vigor and vim, with no apparent diminishing of his chops, and at one point humorously exclaimed "And everybody thought I was dead!"
No, Joe, you're not dead, and neither are these classic performances thanks to the Jazz Icons DVD series. If this night was any indication, this series, which is diverse and comprehensive, is destined to become an essential part of our collective jazz heritage.