If you'd like to be notified of any updates regarding Jazz Icons or other Reelin' In The Years projects, click here.


IMPORTANT ANNOUNCEMENTS &
LATEST NEWS







In order to enjoy the video previews on this site you must have the
latest version of Quicktime.
CLICK HERE FOR JAZZ ICONS MERCHANDISE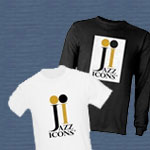 The third Jazz Icons series consists of seven titles:

• Sonny Rollins • Live in '65 & '68
• Cannonball Adderley • Live in '63
• Bill Evans • Live '64-'75
• Rahsaan Roland Kirk • Live in '63 & '67
• Lionel Hampton • Live in '58
• Oscar Peterson • Live in '63, '64 & '65
• Nina Simone • Live in '65 & '68
• Series 3 Boxed Gift Set (All 7 for the price of 6-plus an exclusive bonus disc!)

Each DVD features a 24-page booklet with an essay written by an authoritative jazz historian as well as rare and unseen photos. Jazz Icons DVDs are produced with the full support and cooperation of the artists or their estates, who, in most cases, are contributing rare personal photographs, memorabilia, and forewords.

Reelin' In The Years Productions, producers of the GRAMMY® nominated American Folk Blues Festival Series series, bring the same care and dedication to the Jazz Icons series as they have shown in their other critically acclaimed releases, including Dreams To Remember: The Legacy of Otis Redding, The Temptations: Get Ready- Definitive Performances 1965-1972, Muddy Waters-Classic Concerts and Marvin Gaye- The Real Thing In Performance 1964-1981.
"This is like the discovery of a bonanza of previously unknown manuscripts of plays by William Shakespeare."

—Nat Hentoff
Wall Street Journal

Brought to you by